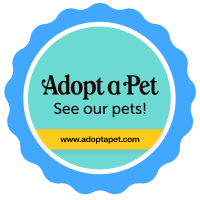 Want to help the cats affected by the Sonoma and Napa fires? Individual rescuers and rescue groups banded together as Sonoma and Napa Fires Pet Rescue and Reunification, and took on the job of searching, feeding, providing shelter, trapping and reuniting cats lost in the fires. Please contribute to their cause. A non-profit, Wine Country Animal Lovers, is taking donations and buying supplies for the group; you can specify that your donation goes to the rescue effort by ending your donation in a penny (e.g., $100.01). Read more on the rescue group's ABOUT page on their Facebook site and read about the rescue effort in a recent New York Times article by Thomas Fuller.
We urge pet owners to only see veterinarians who have graduated from an accredited veterinary school in the United States. The United States leads the world in quality veterinary education. Veterinary schools are accredited by the by the American Veterinary Medical Association (AVMA) Council on Education (COE). Many local veterinary clinics/practices in the San Francisco Bay area are being purchased and staffed by veterinarians who received their veterinary education at agricultural colleges in India, and we discourage our adopters from using those clinics because there have been numerous instances of poor record keeping, poor surgical technique, and insufficient knowledge of current best practices, legal requirements, and protocols. Dr. Tejpaul (Paul) Ghumman, at Alta View Animal Hospital in Mountain View, had his veterinary license suspended by the California State Veterinary Medical Board, and is now on probation. You can read more at the California State Veterinary Medical Board"s Disciplinary Actions page. Additional charges have since been brought against him.
Our next adoption fairs will be held in March, so stay tuned!
We are a private cat rescue group based in Mountain View, California.
Our cats are shown exclusively at
PETCO
.